The effects of reduced human mobility on accessibility to healthcare and personal health management during the COVID pandemic era in Nigeria: A Survey
Keywords:
Covid 19, Outreach, Pandemic, Hypertension, Diabetes, Health care
Abstract
Background: COVID 19 ravaged the world and indeed its effffects, though reduced, can still be felt globally. There has been a high premium placed on covid-19 prevention and treatment which has pushed focus offff diseases that previously were high priority. The purpose of this study is to refocus the attention of health care givers to the needs of the populace despite the prevailing COVID pandemic.
Method: The study was a cross-sectional survey of individuals in a highly populated market in Oshogbo, Nigeria. Random sampling was used in selecting the respondents for the study after sample size was calculated. Data was collected during a health outreach organized to help ascertain the state of health of the marketers and how their health have been affffected by the COVID 19 pandemic.
Results: The results showed that access to health services was reduced during the pandemic when compared to before the pandemic (p = .000) which would be critical for those with underlying illnesses. Respondents were also confronted with fifinancial challenges (43.4%) but were well informed and most (94.7%) adhered to COVID 19 protocols for prevention.
Conclusion: Access to quality health care reduced as Nigerians navigated the COVID 19 pandemic and most of the respondents faced fifinancial challenges in meeting their basic needs and health care needs during the pandemic.
References
World Health Organization and the United Nations Children's Fund (UNICEF) 2020: Community-based health care, including outreach and campaigns, in the context of the COVID-19 pandemic. https://www.who.int/publications/i/item/WHO-2019-nCoV-Comm_health_care-2020.1. Accessed September 15, 2021.
Elston JW, Cartright C, Ndumbi P and Wright J (2016). The health impact of the 2014-15 Ebola outbreak. Public Health 143:60 - 70. https://doi.org/10.1016/j.puhe.2016.10.020
Parpia AS, Ndeffo-Mbah ML, Wenzel NS and Galvani AP (2016). Effects of response to 2014-2015 Ebola outbreak on deaths from malaria, HIV/AIDS, and tuberculosis, West Africa. Emerg Infect Dis 22(3): 433 - 41. https://doi.org/10.3201/eid2203.150977
Brolin RKJ, Saulnier DD, Eriksson A and Von Schreeb J (2016). Effects of the West Africa Ebola virus disease on health-care utilization — a systematic review. Front Public Health 4: 222. https://doi.org/10.3389/fpubh.2016.00222.
Garfin DR, Silver RC and Holman EA (2020). The novel coronavirus (COVID-2019) outbreak: Amplification of public health consequences by media exposure. Health Psychology 39 (5):355-357. https://doi.org/10.1037/hea0000875
World Health Organization 2020: Mental health and psychosocial considerations during the COVID-19 https://www.who.int/docs/defaultsource/coronaviruse/mental-healthconsiderations.pdf. Accessed September 2, 2021
World Health Organization 2020: Interim guidance https://www.who.int/csr/resources/publications/puton
takeoff. Accessed August 16, 2021
Mensah GA (2013). Descriptive epidemiology of cardiovascular risk factors and diabetes in sub-Saharan Africa. Prog Cardiovasc Dis 56:240-50.
Osibogun A, Balogun M, Abayomi A, Idris J, Kuyinu Y, Odukoya O, et al. (2021) Outcomes of COVID-19 patients with comorbidities in southwest Nigeria. PLoS ONE 16(3): e0248281. https://doi.org/10.1371/journal.pone.0248281
Okolie-Osemene J (2021). Nigeria's security government dilemma during the covid-19 crisis.South African journal of political studies 48(2).
Krejcie RV and Morgan DW (1970). Determining Sample Size for Research Activities. Educational and Psychological Measurement. https://doi.org/10.1177/001316447003000308
Afful CO, Annor-Darko A, Adusah E, Atta Snr, BA, Mensah EO, Acheampong F and Amprofi G (2021). COVID-19 Case Count and the Observance of COVID-19 Safety Protocols: A Comparative Study. https://doi.org/10.13140/RG.2.2.28012.69765.
WFPand USAIDS 2017: Empowering women in West African markets: Case studies from Kano, Katsina (Nigeria) and Maradi (Niger). VAM Gender and Markets Study 7.
ASPE 2007: (2007). The effect of marriage on health: a synthesis of research evidence. http://aspe.hhs.gov/hsp/07/marriageonhealth/index.htm. Accessed September 4, 2021.
Metu AG and Nwokoye ES(2014). Entrepreneurship development in Nigeria: prospect and challenges. 1 - 14. https://www.doi.org/10.13140/RG.2.1.1158.6727. Accessed August 13, 2021
Kola-Mustapha AT, Ubani-Ukoma U, Ilomuanya O and Nnamani PO (2021). The COVID-19 response in Nigeria: Adequate protection of a fragile healthcare delivery system. Nigerian Journal of Pharmacy. 55(1):13-19. https://doi.org/10.51412/psnnjp2021.2
Emokpae OA, Osemwenkhae PO, Odigie OF, Omoregiew ON, Erhagbe B and Benneth BA (2021). Modulating inflammation in COVID-19 viral disease: The emerging role for dexamethasone. https://doi.org/10.51412/psnnjp.2021.16
Statista 2021: Willingness to take a Covid-19 vaccine in African countries 2020. Health, Pharma and Medtech https://www.statista.com/statistics/1221141/willingness-to-accept-a-covid-19-vaccine-in-african-countries/. Accessed August 15, 2021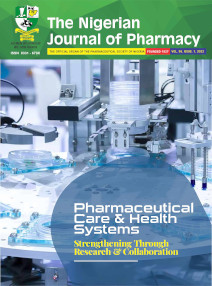 How to Cite
O. Jegede, A. ., & A. Quadri, A. . (2022). The effects of reduced human mobility on accessibility to healthcare and personal health management during the COVID pandemic era in Nigeria: A Survey. The Nigerian Journal of Pharmacy, 56(1), 72–78 | https://doi.org/10.51412/psnnjp.2022.8. Retrieved from https://www.psnnjp.org/index.php/home/article/view/112
License
This work is licensed under a Creative Commons Attribution-NonCommercial 4.0 International License.